Mardi Gras Beads are our business.
Customer Service is our mission.
Happy Customers are our goal.

But don't take our word for it, read what our customers have said:
[Last Names are withheld in accordance with our privacy policy.]
[Email us if you would like to contact these customers.]
Customer Comment - February 2, 2001:
Mr. Maddox, My order was received today....just as agreed. Thank You, it is a pleasure to do business with professionals. I have not had as good an experience with some other Mardi Gras bead suppliers. I'll shop more completely with you next year. Thanks Again. A satisfied customer,
Gary P. Austin, TX.
Customer Comment - February 5, 2001:
I wanted to take a minute and let you know how much I appreciate the fact that you took so much time and interest in my order. It's really nice to know that there are still people out there who really seem to care that the job is done the right way and take pride in the job.
Kathryn H., US Navy
Customer Comment - March 29, 2001:
Just wanted to say THANK YOU for the great service you provided me. As the chairperson of the decorating committee for a formal fundraiser, I was in a panic when the beads we were supposed to get from another supplier were out of stock and not expected to be replenished. After calling several other suppliers (from catalogs I had on hand) and getting the same answer (out of stock) I jumped on the internet, did a search, and found your web page... I think the Mardi Gras saints were looking out for me that day when they sent me to you!! You gave excellent customer service when I called for information, as well as when I called back to place the order, had great prices (cheaper than through the other supplier we originally had), we had our shipment within 3 days (as you promised), and the beads are absolutely beautiful!! You will definitely get business from me again if the need arises.
Kim S., Wahoo, NE
Customer Comment - May 10, 2001:
Hi Beadsale: Someone in your company helped us SO MUCH with an order of beads! I wanted to send you pictures of what we used the beads for, and thank you for your great customer service and prompt attention to our order.

Our art car, "The Intergalactic," won 1st place, Youth Category, at the 2001
14th Annual Houston Art Car Parade. We glued the 7 cases of beads you sent
us. Looking forward to working with you next year.

L. Roca, Art Teacher, Houston, TX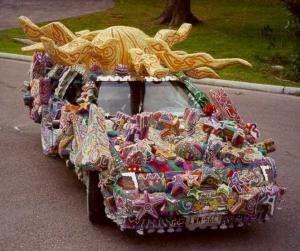 We would sincerely appreciate the opportunity to provide you with this kind of service, as well as quality merchandise at discount prices. If you ever have any special requests, questions, or just would rather talk to a person than place your order online, feel free to call us.
BeadSale.com
Toll Free: (866) 895-3818
Outside US: (225) 338-9900
Fax: (225) 381-8468

3150 Valley St
Baton Rouge, LA 70808